Datastorms is the most versatile Data Management software for the maritime sector
Datastorms supports all themes of the SMM Hamburg
Datastorms, our new and innovative app for smart data management, is taking the maritime sector by storm. To be launched at the SMM. The trade show is all about digital transformation, climate change and the maritime energy transition, which is exactly where Datastorms makes the difference. The software makes all data (i.e. knowledge) of a company easily available to the users through a semantic database, so, long searches for information now belong to the past. The app can turn every data dream into reality, from management of maritime requirements and verification of requirements to the management of auditing and certification data. Smart inventory management? It is all possible with Datastorms and… at a competitive price. The application helps the maritime sector to make projects, from small to large, smarter. How? You can read all about it in this article.
Datastorms at SMM Hamburg: Data must work smarter
Let's first focus on the theme digital transformation. Datastorms was developed because a lot of the activities that we do on a daily basis can be done much smarter and cheaper. Datastorms continues where other programs stop. For example, do you want to make your data centrally available to your team or company so that everyone always has the same information? Do it with Datastorms, because with Excel different versions often go back and forth or a file gets damaged… with nasty consequences. Version control is also no longer necessary because with the 100% traceability function, all changes that were made in the past can easily be viewed and reverted if necessary. Assigning rights is also a piece of cake, so that you can even let customers and suppliers watch or cooperate with your project. This way data will work much smarter for you.
Datastorms: optimizes your current software
You can also use Datastorms if your current software package does not meet all your requirements. An ERP program, for example. Not all of them are capable of making a report of the performance of your project. Datastorms is also here a nice and smart link that can handle almost all maritime ERP systems. And that is not all. Software companies often charge a lot of money for add-ons for reports of project performance. Therefore there is an environment in Datastorms that can easily make reports based on the data in your current system. It optimizes your current software, so that users can immediately get more out of these software solutions.
Maritime example of Datastorms
A practical example: the smart arrangement and management of maritime requirements. In the maritime sector, management of requirements is a typical example that Datastorms can handle very smartly. At the same time, the management of requirements is now often a huge challenge on the shipyards, partly because of the many changes that subsequently have to be implemented in dozens of documents. Why would you store the requirements in different documents, when all this is not required with Datastorms? From validating your information to the entire management of the requirements, all information is centrally available to the users and changes are immediately implemented in all relevant, related information fields.
Datastorms at SMM Hamburg: supports scalable Digital Transformation
Datastorms will demonstrate at the SMM that the software is easily scalable. We think it is important that our software works along with the way our customers work. You keep your DNA, because isn't that what makes you strong after all? It therefore should support your work process and not determine how you should work. For example, do you only need to know whether your Excel contains errors? Just upload your files and you will get an answer right away. Do you want to make the data of your entire project centrally available to your team or your entire company? Everything is possible, fully adapted to our customers' working method. As a result, our customers can start small with their digital transformation, and grow with their maritime digital transformation whenever they are ready for it. Datastorms has been made for everyone. The software supports the first small step into digital transformation till a complete switch to data-driven working.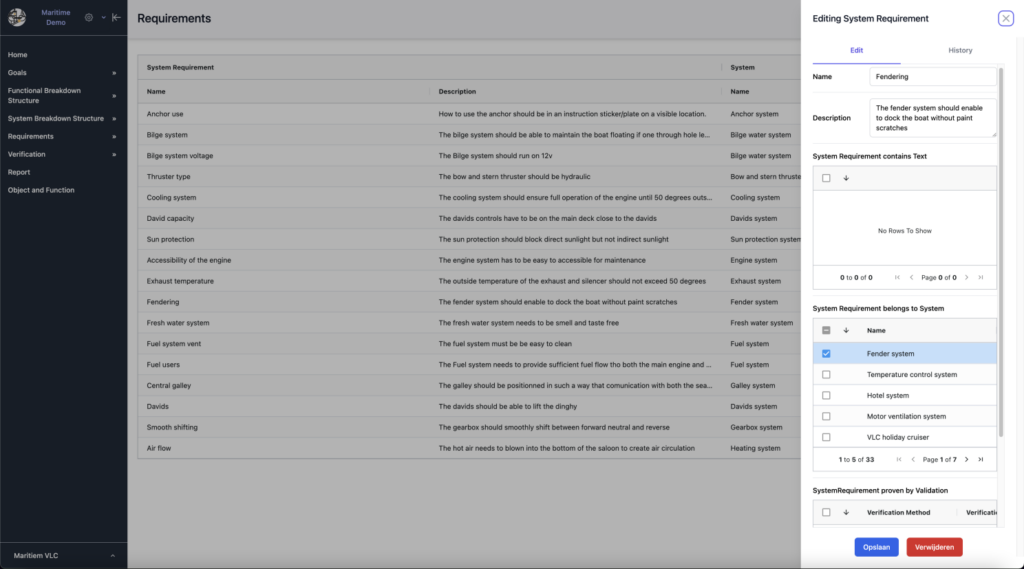 Datastorms accelerates the sustainability of the maritime sector
In addition to digital transformation, the SMM Hamburg this year is also focused on climate change and the maritime energy transition. These themes imply complex calculations and associated analyses as a daily issue. And that is exactly where Datastorms proves its added value. On the one hand, because the software is designed to be able to work with the complexity of the calculations. And on the other hand, because Datastorms is capable of making cross-sections of different data sets, which means that analyses can be made much faster.
That may sound complex, so let me give you an example. Imagine that you want to analyse ten different documents with sometimes dozens of parameters. This is often done manually, but why? Our software is capable of analysing the documents in a fraction of the time. If you manage all your data in Datastorms, it is done in real-time with useful graphic presentation tools such as diagrams and tables. This gives the experts much more time to zoom in on crucial points, for example implementing improvements in the field of ship emissions. And this way, Datastorms accelerates the sustainability of the maritime sector.
Datastorms makes maritime processes cheaper and more successful
I dare say that Datastorms is the most versatile Systems Engineering software for the maritime sector. It is already interesting for one person who may get lost in the maze of (Excel) sheets, let alone for a maritime company that wants to manage all data centrally with the possibility to easily assign rights, so that everyone can work together directly within a project. Datastorms has a clear design and the many pre-programmed functionalities allow a quick start. Our customized solutions are the icing on the cake, so that the innovations of our customers are now leading, instead of the technique. And we do this at much more competitive rates than current software suppliers. We can get to work with you right away.
About Datastorms
Datastorms is a product of and developed by Van Loenen Consultancy, Systems Engineering pioneers since 2008. We have been supporting our customers with their complex projects, products and assets with software solutions for almost 15 years. The basis for this is our successful Systems Engineering method. Powerful Datastorms has been developed on the basis of this knowledge. This innovative application turns maritime data management much simpler than the usual data carriers. Datastorms accelerates the innovations of maritime companies because the software follows the DNA of a team, or even a complete company, and makes all information centrally available. Users immediately find what they need, whether it is for requirements management or for making cross-sections of data from all kinds of documents – the sky is the limit.
Let's meet at the SMM Hamburg & demo
Of course, we will be happy to tell you everything about how Datastorms can help you, too. Cees Verkerk (marketing & sales) will be present at the SMM. Would you like to meet him there? Feel free to contact him through LinkedIn. Would you like to see immediately what Datastorms can do for you? Request a non-binding demo now at beatrix@datastorms.eu or +31(0)79 30 20 000. We are happy to help you and look forward to your response.
More information